West Hartford-based JFS and Tara's Closet launch community mental health conversation series – We-Ha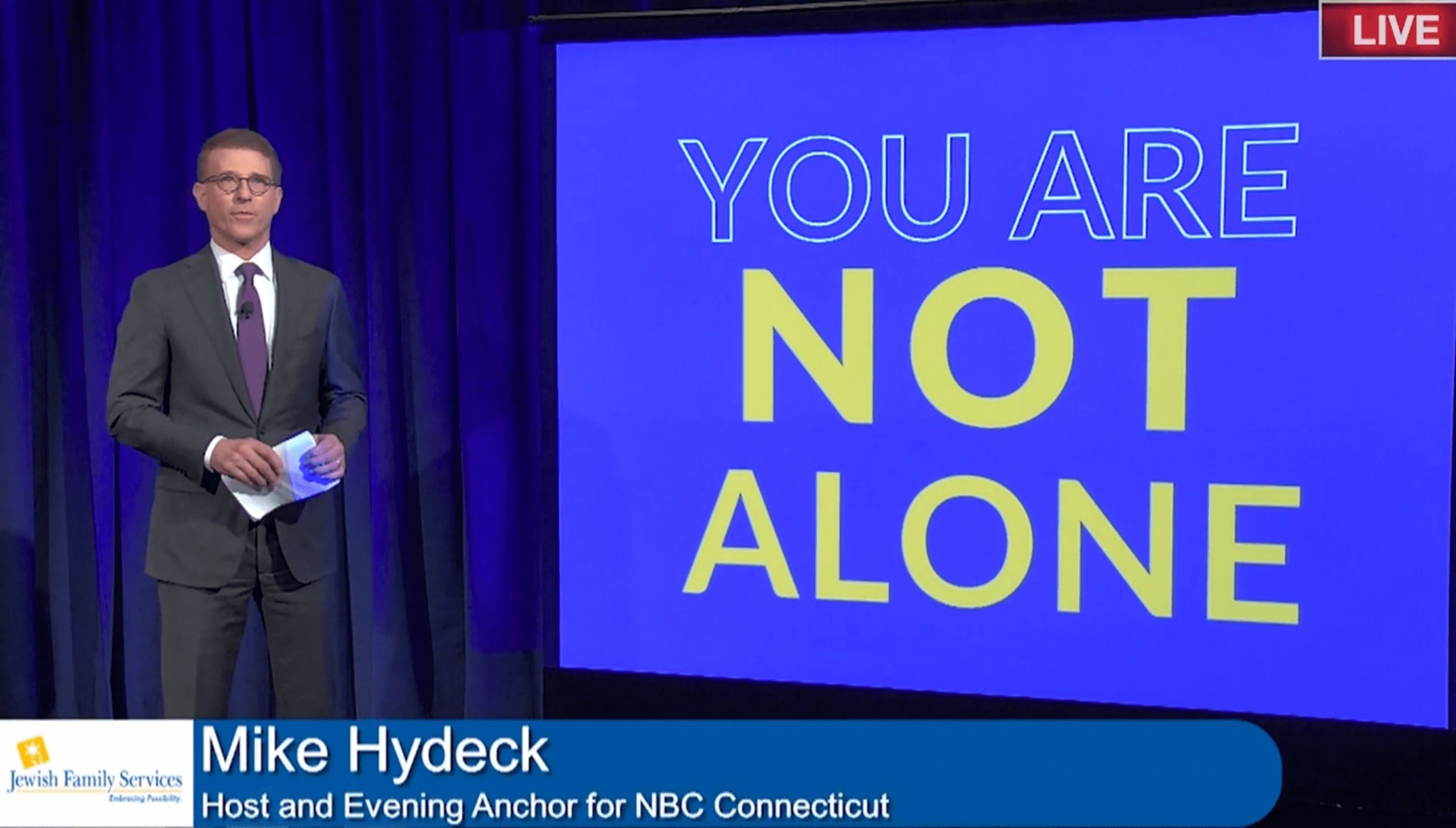 New virtual series aimed at breaking the stigma of mental health launches.
Submitted
Jewish Family Services of Greater Hartford (JFS) and Tara's Closet have launched a new virtual series, Tara's Talks Mental Health Community Conversations, aimed at reducing the stigma around mental health issues.
On May 13, 2021, Tara's Closet and Jewish Family Services presented an unforgettable evening that shone the spotlight on mental health, with an intimate virtual live conversation with award-winning model, actress and author, Brooke Shields. The event, hosted by NBC Connecticut's Mike Hydeck, aimed to change the perception of aromental health and remind each of us: "YOU ARE NOT ALONE".
Dr. Evan Fox of the Hartford Healthcare Institutee of Living announced the new series during the live event. "This series includes conversations with community members, professionals (including myself) and people sharing their stories about mental health…" Fox said in a pre-recorded message. "The goal of this series is to raise awareness of these important issues and reduce the stigma around mental health."
Tara's Talks Community Mental Health Conversations will address a wide range of topics, including social isolation experienced by people with disabilities, adolescent mental health during the pandemic, and youth suicide prevention. The first episode is an in-depth conversation about living with bipolar disorder with a mother and her daughter authors Sonja Wasden, Rachael Siddoway and JFS clinician Heidi Hart.
Wasden and Siddoway wrote a book about Sonja's struggles with bipolar disorder, "An Impossible Life: The Inspiring True Story of a Woman's Struggle from Within." During his conversation with Hanley, Sonja spoke openly and candidly about his experience with mental health.
"…I was married to the CEO of the hospital, I had three beautiful children who lived in a beautiful house attending charity events seeming to have the perfect life," Wasden said. "But really, I was walking on broken glass. I hid my mental illness for over 20 years because of the stigma. I attempted suicide in 2015 and the doctors saved me.
Siddoway shared her experience with her mother's mental health journey. "…I wrote this book alongside my mother and having this journey together was super healing for me, because at 16 I found my mother's suicide note." Siddoway explained. "…I took it very personal. I was mad at her, I thought it was selfish that she wanted to leave because she was in pain, would hurt us… but writing this book with her, I realized it wasn't personal. It wasn't that she wanted to leave me or my family. It was that she wanted to leave the pain she was in, and I understood better what that pain looked like.
When asked what she wanted people to take away from her story, Wasden said, "…I just want you to know that there is life out there for you and, yes, there can be life. pain or struggles, but when you're in crisis and it's heavy and it's just, 'I can't do this anymore'… you'll get through it. You won't always feel this, so I just want to say there is hope.
To watch the first episode and learn more about the series, visit jfshartford.org/TaraTalks.
Tara's Closet, a program of Jewish Family Services, brings mental illness to light. Inspired by a young woman who lost her life to bipolar disorder, Tara's Closet provides free clothing to those in need as it helps those coping with mental illness.
IN REGARDS TO JEWISH FAMILY SERVICES GREATER HARTFORD
Jewish Family Services improves and enhances the quality of life through Jewish tradition of kindness and compassion. We do this work by providing counselling, education and community support to help people of all faiths move forward on the path to emotional well-being, self-reliance, more positive relationships and a renewed sense of purpose. possibilities.
JFS is located at 333 Bloomfield Avenue, Suite A, West Hartford, CT 06117 but is currently closed to the public due to the pandemic. We are available weekdays by phone 860-236-192 and email [email protected].
For more information about JFS programs, staff, volunteer opportunities, and online donations, please visit our website at https://jfshartford.org/