VCU Health Community Memorial Hospital May Team Member |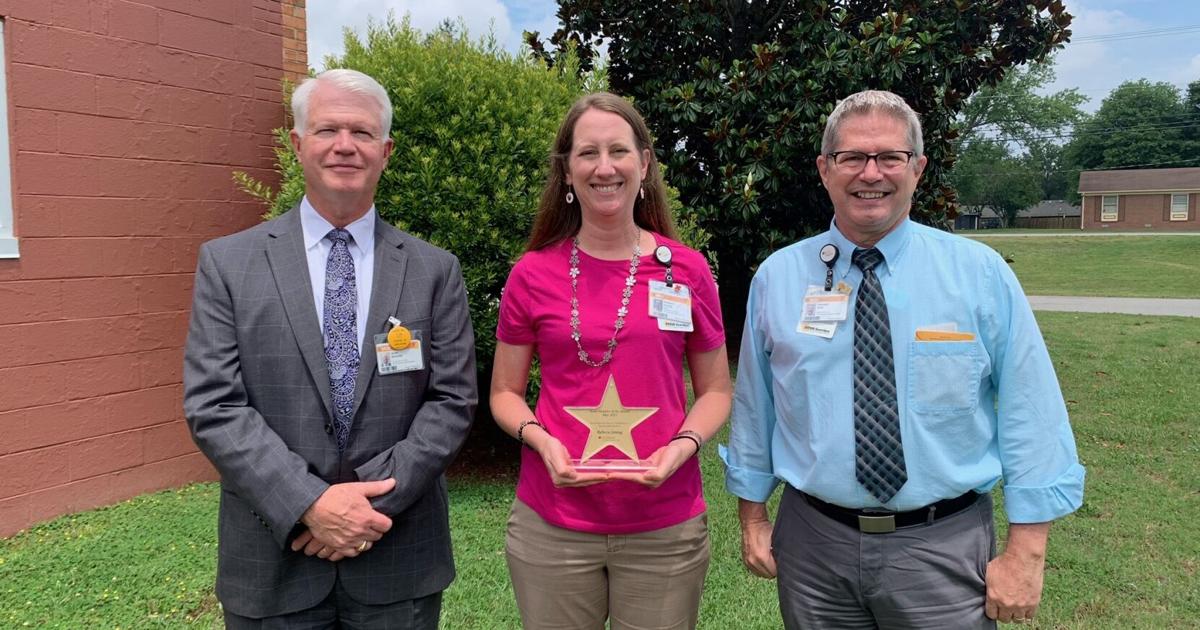 SOUTH HILL – When the only person doing important work leaves, the hole left behind is hard to fill. In the case of the Pharmacy Connection vacancy at VCU Health Community Memorial Hospital (VCU Health CMH), it took eight months to fill the position. The Pharmacy Connection is the medication assistance program funded by the Virginia Health Care Foundation. Meanwhile, financially challenged community members continued to get the medicines they needed thanks to Rebecca Sontag, coordinator of the CMH Foundation.
"Rebecca has shown tremendous teamwork in temporarily taking over duties of The Pharmacy Connection in addition to her normal marketing and foundation role," a colleague said in the nomination. "She established positive relationships with the patients she served and trained the new hire to do the job well."
"The year-end work for the Foundation and Pharmacy Connection took a lot of time and effort and Rebecca fulfilled all of those requirements and never complained," said Ken Kurz, director of marketing and development. .
Rebecca received the May Team Member of the Month award for STAR service. STAR stands for Safety, Teamwork, Responsibility and Relationships. She received the STAR service award, the STAR pin, a parking sticker that allows her to park wherever she wants for the month of June and a $40 gift card.
She said: "I feel humbled and grateful. It's nice when people recognize your hard work and show their appreciation for all you do by nominating you for an award like this.
Rebecca has worked at VCU Health CMH for almost two years. She is a Certified Therapeutic Recreation Specialist and previously worked as a Recreation Therapist and Volunteer Coordinator at Virginia Home in Richmond for 16 years.
She gave advice to her team members: "I am a help and I do not hesitate to lend a hand to anyone in need. Don't be afraid to ask for help, and if you see someone who is overwhelmed, reach out and see if there's anything you can do to lighten their load. Even the smallest act of kindness really goes a long way. »
"My passion in life is helping people, especially those with special needs, and I'm always looking for ways to give back, especially to organizations that I love and that support their mission," Rebecca explained.
She sits on the board of directors of Families Embracing Autism Together (FEAT) and assists them with their work program which promotes the benefits of hiring people with developmental disabilities and provides job training for these people.
Rebecca lives with her husband, Tom, in Mecklenburg County and they have three children, ages 15, 4 and 3. She enjoys spending time with her family, friends and her adorable dog, Lacey.
Other nominees for May were Mary Alexander, Food and Nutrition; Kristy Fowler, Marketing; and Molly Hatchell, USI.
VCU Health Community Memorial Hospital (VCU Health CMH) is a not-for-profit hospital dedicated to being the healthcare service leader for South Central Virginia and parts of northern North Carolina. Since 1954, the hospital's employees, physicians, volunteers and Board of Directors have worked to fulfill their mission of providing excellence in the delivery of health care. Today, VCU Health CMH has a new hospital with 70 private patient rooms and a long-term care facility with 140 additional beds. VCU Health CMH offers a wide range of inpatient services, including acute care and long-term care, as well as many outpatient programs such as home health, palliative care, and many more. Since its inception, they have become one of the region's largest employers with over 800 employees, over 160 volunteers and 177 vendors, representing 26 medical specialties, on staff. Visit VCU-CMH.org for more information.