UTSA Appoints Founding Dean of College for Health, Community and Policy | UTSA today | UTSA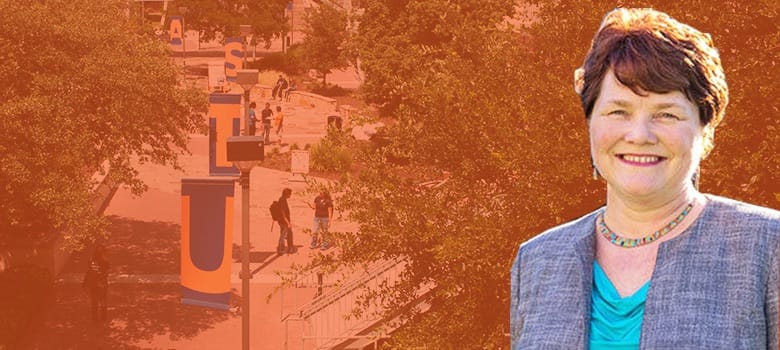 APRIL 6, 2020 – Medical sociologist and demographer Jeralynn "Lynne" Sittig Cossman, Chairman of the Department of Sociology and Anthropology at West Virginia University, was named Founding Dean of UTSA's College for Health, Community and Policy, and Full Professor Mark G. Yudof. She takes office on May 11.
"Lyne Cossman is a creative, motivated and effective administrator who has a proven track record of building consensus in all fields through collaboration and diplomacy," said Kimberly Andrews Espy, rector and senior vice-president for academic affairs. "She is uniquely qualified to bring together the various disciplines within the HCaP and lead faculty, staff and students in creating a common identity and implementing a strategic vision to move the college forward.
"Additionally, she is a strong faculty advocate who has demonstrated her ability to recruit and retain high quality and diverse researchers as well as develop talent in-house, and she has been successful in driving productivity and quality. research among its professors and students. "
In West Virginia, an R1 research-intensive university, Cossman oversaw curriculum and curriculum development in a 1,000-student department of criminology, sociology, and anthropology. She notably led the design and implementation of the university's sociology doctoral program, which enrolled its first cohort of 14 students in 2016 and now has more than 30 doctorates. students.
---
"There is a real call to action for us to engage in research, awareness and other activities that support the people of San Antonio and Texas. "
–LYNNE COSSMAN, Founding Dean of the College for Health, Community and Policy
---
---
She led the expansion of the department's research infrastructure, including affiliating with several health science research centers, to support and provide funding opportunities to all doctoral students. In addition, it facilitated the separation of a single major in Sociology / Anthropology into two distinct majors, implementing changes in the requirements of writing, synthesis and general training in tandem, and also facilitated the creation a new major in criminology online, which had an initial enrollment of 85 students in 2018-2019.
Cossman's own research focuses on community health and health professionals. It was funded by the Robert Wood Johnson Foundation, the US Department of Health and Human Services, and the Center for Medicaid and Medicare Services, among others. She is the author of approximately 70 peer-reviewed publications and has published in several sociological and interdisciplinary journals, including the American Journal of Public Health, Social problems, Health and place, Population research and policy review, Sociological survey and The Journal of Rural Health.
His current research focuses on spatial concentrations of mortality and morbidity, the opioid epidemic, and the Mountains of Hope cancer coalition in West Virginia.
Cossman says she is excited about HCaP's charge of advancing human health from a transdisciplinary perspective to better facilitate student preparation and address health disparities.
"By being a College for Health, Community and Politics, there is a real call to action for us to engage in research, outreach and other activities that support the people of San Antonio and Texas and make a difference in our community. . This mission truly reflects my professional and personal values ​​of doing work that matters, "Cossman said. "I look forward to working with the faculty and staff at HCaP to create a strong, student-centered culture for the college that interweaves our distinct disciplines. "
---
---
Prior to joining WVU, Cossman worked from 2001 to 2014 at Mississippi State University, where she was tenured and then promoted to full professor. She has held several administrative positions, including that of Head of the Department of Sociology, Coordinator of the Graduate Studies Program and Director of the Women and Gender Studies Program.
Additionally, she was the founding director of the Mississippi Center for Health Workforce (2008-2012), which was established in response to the shortage of highly skilled health professionals in the state. She led the strategic planning efforts there to seek funds to increase research in the areas of health care workforce demand, recruitment and retention.
Cossman previously held academic positions at the University of Central Arkansas, University of Miami, and Florida State University. She obtained a bachelor's degree in sociology and feminist studies, a master's degree in sociology and a doctorate. in Sociology and Demography, all from Florida State University.