Texas OSSF Authorization Software for Local Environmental Health Agencies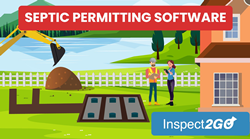 full range of functions required for any agency's OSSF program

HOUSTON (PRWEB)
July 18, 2022
Inspect2go now offers a complete OSSF (On-Site Sewage Facilities) software package for Texas city and county agencies. The cloud-based platform includes the full range of functions needed for any agency's OSSF program. The system can be adapted for use by various government agencies and configured with multiple functions as shown below.
Watch the video: https://inspect2go.com/texas
Texas Public Agencies:

Environmental health

Neighborhood services

Consumer health

Code enforcement

Engineering/Building

Development
Functions:

Permit

Inspection

public portal

Online applications

Online payments

Paper scanning

Data cleansing/migration

GIS/Mapping

TCEQ OARS Reports

Follow-up of the maintenance of septic systems

Septic Service Provider Tracking

SECURE data import

Automated letters
About Inspect2go

Inspect2go provides environmental health software to government agencies. Products and services include online public web portals, online applications, online payments, authorization and licensing software, conversion of paper/manual processes to paperless/web-based solutions, migration cloud hosting, inspection applications and custom programming services to automate government agencies. workflow.
Share the article on social networks or by e-mail: