Public health and community leaders discuss vaccine safety, possible third wave, and fatigue from COVID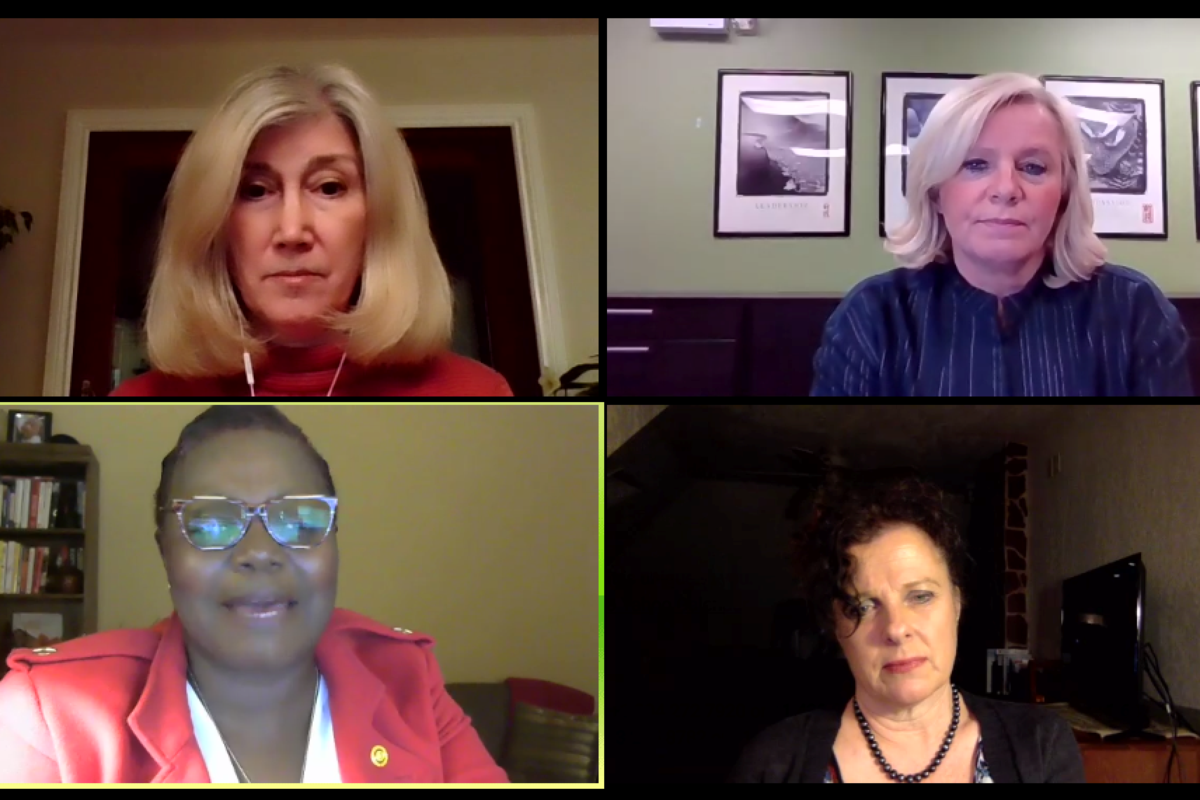 More than 1,200 people connected virtually to hear local community leaders discuss the importance of staying home, the upcoming vaccine, a possible third wave and fatigue from the virus on Thursday evening while answering questions live.
The webinar Finding Balance During COVID-19 is part of the Canadian Mental Health Association Waterloo Wellington (CMHAWW) monthly video series with Dr. Anne-Marie Zajdlik and Helen Fishburn, CMHA's Expert Executive Director in Mental Health, where they aim to discuss relevant information and calmly reassure the virus. The series is sponsored by the Zajdlik charity Hope Bracelet.
Hosted by community leader Marva Wisdom, the series welcomes a special guest to each episode, this month Dr. Nicola Mercer, Wellington-Dufferin-Guelph Public Health Medical Officer of Health.
Mercer said her recent letter to the public advising people to stay home – as home visiting is now the main cause of transmission – was a message she held in her heart for some time.
"Sometimes we can't always put what we want people to do in very simple language and sometimes all of us in healthcare the messages are difficult and the ones people don't want to hear, especially now with COVID-19. " said Mercer.
Under the current circumstances, she said the number one behavior that causes the most community cases is one that most people probably don't want to stop: socializing with our friends and family.
She said when WDG Public Health traced the cases, it found that most of the cases were from private social gatherings such as birthdays, sleepovers, game nights and games and just parties in general.
"It's almost always the ones to blame it," Mercer said, noting that people get the virus from friends and family.
"I mean it's about the people in our lives. It's not about the things, the doorknobs in our lives. It's about people.
Mercer said the safety protocols in place in schools really work because public health has found very low rates of transmission in schools.
"Sleepovers and play dates. That's how kids get it," Mercer said.
Zajdlik said that although provincial guidelines allow 10 people to congregate indoors given that they all wear masks and stand six feet apart from each other, it is a bad idea to physically congregate if it is not absolutely necessary.
"I think these guidelines are going to change and change very quickly," Zajdlik said, also adding that the rules cannot change quickly enough for the speed at which this virus is evolving.
"The provinces that surround us and the country literally close, close the borders, go into the red, interrupt all socialization outside your intimate family bubble."
Mercer said that even when there are 10 people wearing masks and standing apart in an office, over time if one person is infected there can be infections in the office.
"If people talk like they are on the phone, again we see more people affected and if someone takes off their mask for a drink, to eat something, then the infection rates go up," Mercer said.
Mercer said if people actually change their behavior and buy into his letter, it will be two to three weeks before the community can see a difference.
"It is not impossible to stop the shipwreck in which we are in our region," said Mercer, adding that we can keep our restaurants and our businesses open if we just make a difference.
Zajdlik said if people don't follow the guidelines, there will be a third wave in the New Year.
" If this happens. I believe we'll go into lockdown, "Zajdlik said, reminding the community that Mercer was the first public health worker in the province to impose mandatory masks.
"She did it in June long before everyone else. I think that's why we are in such good shape in this region, "Zajdlik said.
" She is courageous. She is courageous. She is intelligent. Am here."
Zajdlik also said that what has happened in the scientific community in terms of preparing vaccines for distribution is simply miraculous.
On Wednesday, Ontario Health Minister Christine Elliott said Canada will receive four million doses of the Pfizer vaccine and two million doses of the Moderna vaccine between January and March 2021, with the priority of those vaccinated going to people. living in long-term care homes and nursing homes.
" It's huge. What has been accomplished is absolutely huge, "Zajdlik said of mRNS vaccines.
"We have never had vaccines made from mRNA which is a type of genetic material, but there has been 30 years of research that has gone into creating this vaccine," she said. noting that although the technology has been out for a long time, scientists have been waiting for the opportunity to use it.
"This vaccine and this technology, they were made for a time like this. "
"I have no concerns about getting this vaccine," Zajdlik said, stressing that if the community wants it, they will get it first.
"Please stand in line to receive this vaccine. This is going to change everything and it will bring us into Spring where we just see a massive light at the end of the tunnel. "
Fishburn said that from a mental health standpoint everyone is fed up with COVID-19 and many of the precautions we need to take are mentally tough because these are the very things that keep us mentally good, like going through life. time with loved ones showing physical forms of affection.
"It's actually counterintuitive for our mental health in a pandemic," Fishburn said.
She said that sometimes doing the right thing can seem very wrong, so it's really not surprising that we've seen a resurgence of positive cases.
"That doesn't mean people don't care. It doesn't mean people aren't affected. I really think that means people are tired. They are weary of all the rules, of all the regulations that separate them.
Fishburn said the resurgence of cases also reflects how difficult behavior change is, especially when it is long lasting.
"This is not a short-lived crisis," said Fishburn, adding that it's really important for people to recognize and remember how difficult this change is.
Fishburn said it was important to take a break from all information related to COVID-19 and to take a mental health break during the pandemic.
Tracey Curtis, president of the Rotary Club of Guelph, who briefly appeared in the webinar, said there are things the community can do to get through this time: support the community by buying local, stay kind and patient, donate to the community. Zajdlik Charity Hope Bracelet (all webinar donations go directly to the charity) and also participate in Sparkles in the Park 2020, as Christmas can be safely celebrated with the community.
A recording of the webinar is available here.