Kaiser is promoted to Senior Director at VCU Health Community Memorial Hospital | News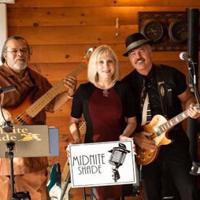 SOUTH Hill – You may know her as 'Candy Monroe' from local band, Midnite Shade. But by day, Janet Kaiser, DNP, MSN, RN, CEN, NE-BC, CHEC, is the new senior director of patient care services at VCU Health Community Memorial Hospital (VCU Health CMH). Janet has over 30 years of nursing experience, 23 years of nursing leadership, and she brings a wealth of knowledge to this new role leading the Emergency Department (ED), Acute Care, intensive care and palliative care unit.
Janet completed her Doctorate in Nursing Practice in 2018 with certifications in Emergency Nursing, Executive Nursing and Health Care Emergency Coordinator. Janet has served on the National Emergency Nurses Association committee since 2018 to conduct research assessments and write recommendations for evidence-based practice in emergency nursing with many of her work published on the website of the National Emergency Nurses Association. ENA. She has other publications in the Journal of Emergency Nursing. Janet is currently the Virginia State Chair for the Basic Trauma Nursing Program and is an instructor for several certifications.
When asked how she balances it all, she replied, "Your career is defined by what you put into it. If you work hard and put a lot of effort into it, your career will reflect that. Education is very important to me. Healthcare changes every year, so it's very important to stay current through continuous learning. Time management is huge, and you have to take time off from work to recharge your batteries and have people to support you.
Above all, Janet is passionate about mentoring new nurses and leaders. She enjoys making sure the patient experience is excellent. Since this is a new position, she needs to define what it looks like.
Janet explained, "I take a holistic view of patient flow from the emergency department to admission to an inpatient unit, looking at the challenges of patient movement and what's best for the patient. I can help all specialties see outside of their unit and how each impacts patient care. My goal is to break down barriers between specialty units to make the process more efficient. We are all there for the patient.
Janet's advice to others is: "Never stop learning and always remember where you started." Janet began her healthcare career as a medical transcriptionist. She looked at the records and read what the nurses were doing. She wanted to be a part of it and not just read about it.
VCU Health CMH is seeking leadership positions for Acute Care, which Janet had been leading since January when another employee left, and ED, which she had been leading for six years when she and her husband moved to Bracey from Illinois.
The Kaisers left behind five adult children, four of them in the health field. They see their children once or twice a year. Rick, her husband, plays guitar and sings while Janet plays keyboards and sings. That's how they met. It is a versatile group; they write and perform their own songs, as well as popular covers. You can find them at local restaurants and wineries. They recently played their first gig since the pandemic shut down everything last year. Follow them on Facebook at facebook.com/MidniteShade. When Rick isn't making music, he's a DJ on the sidelines, a real estate agent with Pointe Realty Group, and the owner of Kaiser Signs in Bracey.
Janet said, "We enjoyed our time here in Virginia; It was a good experience."