European health agencies say it's 'too soon' for fourth Covid vaccine for general population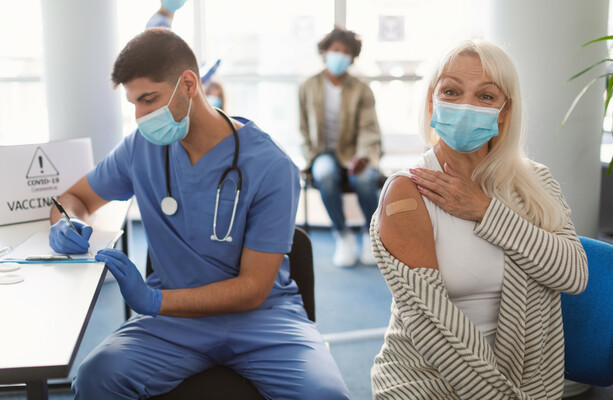 The EUROPEAN CENTER for Disease Control (ECDC) and the European Medicines Agency (EMA) have said it is "too early" to consider using a fourth dose of Covid-19 mRNA vaccines in the general population.
It comes after the National Immunization Advisory Committee (NIAC) today recommended that people aged 65 and over and those who are immunocompromised should receive a second booster dose of mRNA.
In a joint statement, the two agencies said that for adults "under the age of 60 with a normal immune system, there is currently no conclusive evidence that vaccine protection against serious diseases is diminished or that there is an added value of a fourth dose".
However, the ECDC and EMA have agreed that a fourth dose (or second booster) can be given to adults aged 80 and over, after reviewing data on the higher risk of severe Covid-19 in this group. of age and the protection offered by a fourth dose.
"There is currently no clear evidence in the EU that vaccine protection against serious disease is significantly reduced in adults with normal immune systems aged 60-79 and therefore no clear evidence to support the immediate use of 'a fourth dose,' the agencies said.
ECDC and EMA have warned that it may however become necessary to consider a fourth dose in this age group if the epidemiological situation changes.
Evidence of the effects of a fourth dose comes largely from Israel, the agencies said, where data indicates that a second booster given at least four months after the first booster "restores antibody levels without raising new security issues".
The data also suggests that a second booster provides additional protection against serious disease, although the duration of the benefits is not yet known and the evidence is still limited.
Second booster
Health Minister Stephen Donnelly has said he has accepted the recommendation made last night by the National Immunization Advisory Committee (NIAC) to Chief Medical Officer Dr Tony Holohan.
Dr. Holohan endorsed the recommendations. However, the recall campaign will not start straight away, as the Department of Health and the HSE must now put the advice into practice.
Donnelly said: 'I welcome today's update on Ireland's vaccination programme. Covid-19 vaccines have achieved extraordinary success in preventing serious illness, hospitalizations and deaths.
"These vaccines continue to have a very good safety profile with hundreds of millions of doses administered worldwide."
In a statement to The newspaperan HSE spokesperson said: "As with all phases of the immunization program to date, the HSE is implementing the recommendations of the National Immunization Advisory Committee (NIAC) and the advice of the Chief Medical Officer."
"The HSE is working to put plans in place to enable the program to be extended in a safe and timely manner," the spokesperson said.
Ireland uses two Covid mRNA vaccines – Pfizer and Moderna.
NIAC has recommended a second mRNA booster dose for people age 65 and older, which means it would be their fourth dose if they initially received a two-dose mRNA vaccine.
It is also recommended that anyone aged 12 and over who is immunocompromised receive a second booster dose, making it their fifth dose globally.
Most immunocompromised vaccinees would have received their initial booster doses, an additional vaccine to provide better protection, and then an additional booster dose. The NIAC has now recommended a new booster dose.
The group also recommended that immunocompromised people aged 5 to 11 receive a total of three doses of the vaccine.
#Open Journalism
No news, bad news
Support the review
Your contributions will help us continue to deliver the stories that matter to you
Support us now
Period between doses
Speaking on RTÉ radio's Morning Ireland, Donnelly said the advice is that there should be a period of six months between this additional booster dose and the previous booster dose, but that a time interval of four months might be appropriate in some cases.
NIAC reiterated its previous recommendations that pregnant women be offered mRNA vaccines at any stage of pregnancy if they have not yet been fully vaccinated.
The committee said it "will continue to recommend that people obtain and complete their primary vaccination course and their booster if they have not already done so".
"This is independent of a history of previous COVID-19 infection."
Minister Donnelly said those unvaccinated or not fully vaccinated continue to be 'disproportionately affected' by the disease, accounting for around a third of Covid hospitalizations despite representing only a small percentage of the population .
He asked NIAC to continue to review the evidence regarding the benefits of a second booster dose for other population cohorts.
With reporting by Jane Moore