Department of Health, DEQ Assesses Chemical Leak at Closed Minden Dry Cleaners Site | New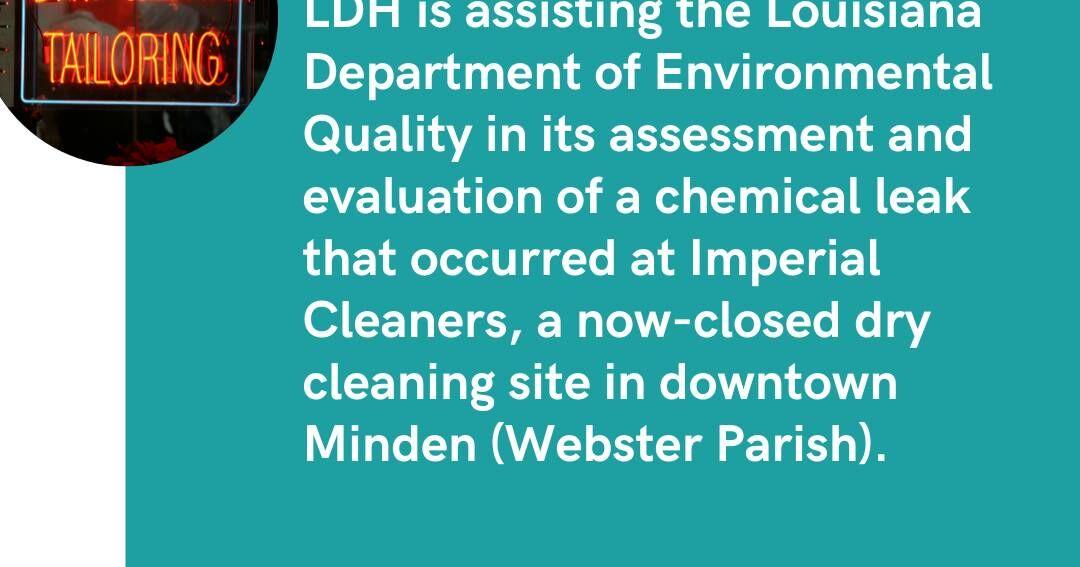 BATON ROUGE, La. — Two state agencies are involved in assessing a chemical leak that occurred at an old dry cleaning business in downtown Minden.
The Louisiana Department of Health is assisting the Louisiana Department of Environmental Quality in their assessment of the situation at Imperial Cleaners.
The leak involves the chemical tetrachloroethene (PCE) and its breakdown products, including trichloroethene (TCE). There is evidence that these substances escaped from their storage container in the ground, the health department said in a press release on Friday.
"When volatile compounds such as PCE and TCE are present in soil and shallow groundwater, they can produce vapors that can enter a building through cracks in foundations, around pipes, or through a drainage system. drainage. When chemical vapors move from the air spaces in the ground to the indoor air, this process is called vapor intrusion. If vapor intrusion occurs in nearby buildings, it could present health concerns," says the press release.
According to the Webster Parish Journal, toxins are a concern for nearby daycare owners, who are among a number of business owners and residents near the 200 block of Pennsylvania Avenue who have received notice from the LDEA regarding the contamination of the dry cleaning company.
"They'll be checking the air quality to see what we're dealing with and if there are any contaminants," daycare owner Julie Vogel told the Webster Parish Journal. "Hopefully the leak is contained and we have no issues in our building, but it's scary to have this so close to home. Right now it's a waiting game to see what will happen and how they will protect us from any further harm.
Laura Stanley, owner of La. StateRealty LLC, has leased the Imperial Cleaners building at 211 Pennsylvania Ave. for many years. And for most of that time, she knows the contaminants in the ground and the air.
"That's why I never bought the building," Stanley told the WPJ. "They (the Louisiana Department of Environmental Quality) were supposed to clean this up for the past 12 years, but they never did."
Stanley refers to the toxin levels believed to be in the ground below the building.
"All we were told was 'don't drink the ground water,'" she said. "It really doesn't make sense. Most places improve after 12 years, I don't know if it got worse or if the levels that were acceptable 12 years ago were lower.
Stanley said she couldn't buy the building until the toxins were removed. She moved in the fall of 2021, after meeting with the LDEQ several times, "hoping they would understand, but they never did".
LDEQ oversees efforts to sample and remediate the leak, including whether vapor intrusion has occurred in nearby buildings.
LDH will work with LDEQ to review the sampling results and provide technical support to environmental contractors performing indoor air sampling.
LDH also monitors public water supply wells and the distribution system for any potential contamination. To date, no drinking water sample has exceeded acceptable levels for these or other substances.
The health effects of PCE and TCE depend on the amount an individual is exposed to as well as the duration of exposure. Exposure to high levels of PCE or TCE can cause headaches, dizziness, incoordination and drowsiness. Exposure to PCE for months or years can cause changes in mood, memory, attention, reaction time, and vision. Exposure to TCE for months or years can cause long-term or chronic health problems, such as effects on the immune system.
The health department said exposure does not necessarily mean there will be a health impact.
"LDH takes any potential environmental exposure to known or suspected carcinogens very seriously. Accordingly, LDH will continue to monitor this situation closely and provide regular updates regarding drinking water results and public health recommendations" , the statement said.