Board Reviews Health Department and DSS Budgets with Requests for Additional Positions | News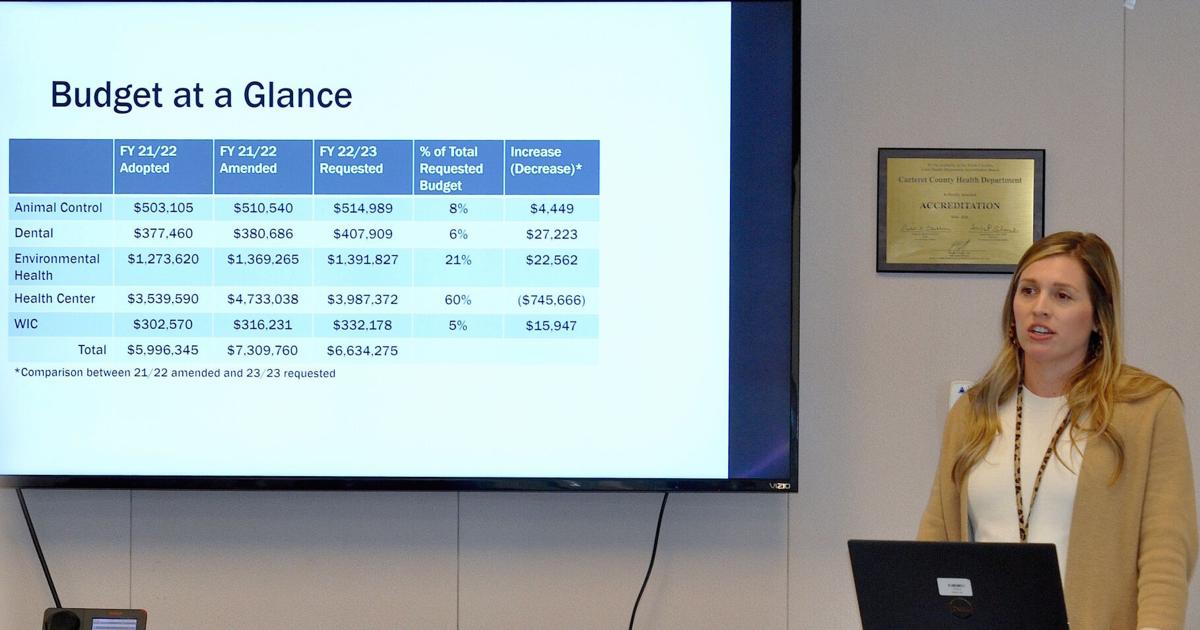 BEAUFORT — The County Consolidated Human Services Board on Monday considered county budget requests for the 2022-23 fiscal year for the Department of Human Services and the County Health Department, both requesting additional positions.
For the first time in several months, board members met in person in the health department conference room. Due to COVID-19, the members met via Zoom.
Since county commissioners allocate funds to both departments, the county's Consolidated Human Services Director, Cindy Holman, explained that budget proposals are presented to the Consolidated Board for informational purposes only, with no action required.
"We are submitting the budget requests to inform you and receive comments only," she said.
The Department of Social Services is funded not only by county money, but also by federal and state funds, as well as fees. The department is requesting $5.6 million from the county for the 2022-23 fiscal year, compared to $4.7 million allocated by the county in 2021-22. This represents a 19% increase over what was allocated this fiscal year.
The DSS also includes $6.47 million in federal funds, $1.07 million in state funds, and $55,000 in fees, bringing the total planned budget for 2022-23 to $13.2 million, up from $12 million for 2021-22, an increase of nearly 10% over this fiscal year. .
DSS funds go to administrative services, labor costs first, programs such as foster care and ward expenses, special assistance programs such as foster care transitional and services for the blind, and special projects, which include adoption assistance and energy assistance.
The DSS is requesting an additional Income Maintenance Officer and transition from a vacant Social Worker III position to an Adult Services Program Manager reclassification.
DSS Director Jessica Davis said the additional social worker was needed to help make changes to the Medicaid system.
DSS business manager Alex Showalter also anticipates additional costs for contract services, audit services and fuel price increases. He is asking for an additional $10,000 to cover increased fuel costs.
Board Chairman Carol Wray asked if his fuel projection was adequate.
"We see fuel prices skyrocketing, but I feel like that's a reasonable request," Showalter replied.
Ms. Wray further asked if the budget would cover rising inflation.
"As long as we get what we asked for, I think we'll be able to manage," Mr Showalter said.
As for the health department, business manager Alex Davis said the department is requesting $6.6 million for 2022-23, including $3.9 million in county funds, which is the bulk of the budget. . The county's request is about 8% higher than the county's $3.6 million allocation in 2021-22.
Other sources of revenue for the health department come from state, local royalties, and escrow.
The total projected budget for the Department of Health is approximately 11% higher than the $5.99 million allocated to the department at the start of the 2021-22 fiscal year.
Health Department funds go to County Animal Control, Dental Services, Environmental Health, the 21 Program Health Center, and Women, Infants, Children, or WIC.
Ms Davis said the 2022-23 fiscal budget includes a request to reclassify a medical laboratory assistant to a medical assistant position and the addition of a part-time treatment assistant and a medical laboratory assistant .
She further pointed out that while the health department received additional federal and state funding this year to help with services related to COVID-19, much of that funding will disappear next fiscal year.
"We don't expect any significant COVID funds in the coming year," she said. "A lot of that funding will end this fiscal year. Some of these funds will carry over into the new year.
The Health Department and DSS budgets are submitted to the county administration for review and then to the county commissioners, who must pass a new budget by Friday, July 1, the start of the new fiscal year.
In other actions, the council:
· Approved the new Health Service Fee Schedule for the 2022-23 fiscal year.
· Approved acceptance of $167,687 in American Recovery Plan Act funds for the Low-Income Household Water Assistance Program.
Contact Cheryl Burke at 252-726-7081, ext. 255; email [email protected]; or follow on Twitter @cherylccnt.