Anoka County Board of Directors Recognizes Public Health and Environmental Award Recipients | New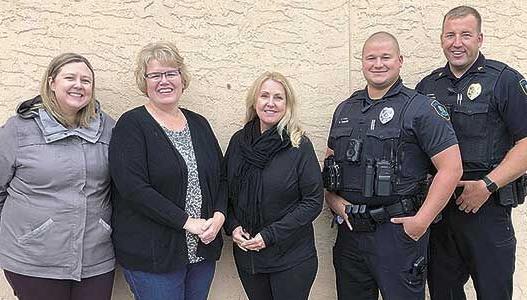 [ad_1]
The Anoka County Council of Commissioners awarded public health and environmental awards to individuals and groups at the October 13 council meeting.
Connie Moore, director of Alexandra House, was the first recipient. Alexandra House is a shelter in Blaine that provides refuge and resources for those suffering from domestic and sexual violence. Throughout his career, Moore has been a member of numerous county, state and national initiatives that provide leadership in creating public policies and resources that meet the needs of victims and provide options for the development of the hand. -work for low-income households. Most recently, Moore served Anoka County by participating in the Joint Community Health Needs Assessment, co-facilitated by the Anoka County Public and Environmental Health Departments and Allina Health-Mercy Hospital.
The first group prize went to the Homeless Outreach Event Collaborative, which is made up of the Blaine Police Department, Heading Home Anoka Housing Collaborative and staff from the Northtown Mall. On December 19 of last year, the Homeless Outreach Event Collaborative and several other police departments and community partners hosted an event at the Northtown Mall. Staff from several organizations came together to engage 35 people experiencing homelessness in the region and put them in touch with services. Police departments also worked with Anoka County on Jan.22 for the 2020 point-in-time tally, the annual U.S. housing and urban development tally of homeless people. Staff on site during this second homeless awareness event were able to involve and help 48 people.
The second group, Invictus Brewing Company and The Tipsy Steer, Blaine companies that occupy a shared space, received an award for developing a robust recycling program. The companies applied for a joint grant through Anoka County to get color-coded trash cans, recycling bins and organic waste for their facility, along with a six-month supply of compostable products to get them started. Almost all of the paper products that come out of the kitchen there are now certified compostable and the brewery has reusable glassware. Tipsy Steer and Invictus Brewing are able to divert approximately 32,000 pounds of single-stream recycling and approximately 182,000 pounds of organics recycling each year through their new recycling program.
[ad_2]