An Extraordinary Nurse Recognized at VCU Health Community Memorial Hospital | News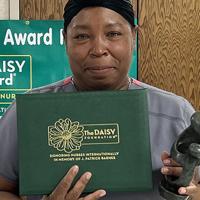 SOUTH HILL, Va. – Mrs. Robbie Tucker, of Chase City, recently received the DAISY® Award for Extraordinary Nurses at VCU Health Community Memorial Hospital (VCU Health CMH). The award is part of the DAISY Foundation's program to recognize the superhuman efforts that nurses perform every day.
Tucker worked at VCU Health CMH for 15 years at Hundley Center, the long-term care facility.
A family member of one of its residents submitted the application. When the time came for the resident to leave this life, Tucker made sure he was comfortable and kept the lines of communication open so the family member remained informed. She even let the family member know when she would be away for a few days to make sure the resident had someone to visit. These actions earned him the DAISY Award® for the last quarter of 2021.
"She was always available and able to meet my father's needs," the family member said. "I could feel that she really cared about him, and that put me at ease when I left him."
"I was shocked and in disbelief when I found out I had won," Tucker explained. "I was just doing my job."
Tucker treats all residents equally with compassion and empathy. She loves hearing their stories and making sure family members are involved in their care.
"If my parents were alive and in a nursing home, I would want them treated with the same care," Tucker said. "Our residents are here for a reason, and we have to realize that they don't feel their best. We have to put our personal feelings aside and adapt to their needs.
Director of Nursing Linda Norman said, "Robbie does a great job caring for his residents. She has been a beloved member of the Hundley Center team for many years.
When Tucker isn't working, she enjoys spending time with her family. She has an aunt who is a nurse at a nursing home in Clarksville, an uncle who encouraged her to go back to school to get her nursing degree, and two sons. One is a former Marine and lives in Missouri and the other works with her at the Hundley Center in environmental services. She also enjoys exercising and walking.
The non-profit DAISY Foundation is based in Glen Ellen, California, and was established by family members in memory of J. Patrick Barnes. Barnes died at the age of 33 in late 1999 from complications of idiopathic thrombocytopenic purpura (ITP), a little-known but not uncommon autoimmune disease. The care Patrick and his family received from nurses while he was ill inspired this unique way of thanking nurses for making a profound difference in the lives of their patients and patient families.
DAISY Foundation CEO and Co-Founder, Bonnie Barnes, FAAN, said, "When Patrick was critically ill, our family experienced first-hand the remarkable skill and care nurses provide to patients day and night. Yet these unsung heroes are rarely recognized for The superhuman work they do. The kind of work that VCU Health CMH nurses are called upon to do every day embodies the purpose of the DAISY Award.
For a complete list of healthcare organizations currently running the program, please visit http://DAISYfoundation.org.